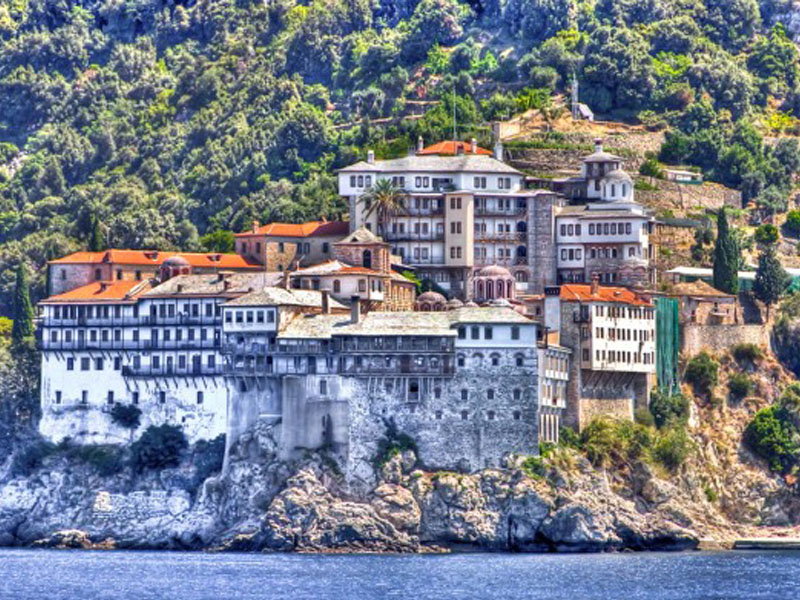 The Athonite State of Agion Oros (Holy Mountain) is situated at the third peninsula of Halkidiki. A favourite destination for visitors coming from all around the world to admire the worship and devotion to God and the beauty and authenticity of the natural landscapes.
This holy place is the centre of Orthodox monasticism and it is characterized by UNESCO as a World Cultural Heritage site. The Garden of Virgin Mary, as the monks call it, is a self-governing part of the Greek state composed of 20 monasteries and other monastic settlements (sketes, cells, huts, seats, hermitages) where the monks live, pray and work ensuring their survival and the maintenance of their living spaces.
Since Agion Oros has banned women from entering it, but has also made the access for male pilgrims difficult, cruises around Mount Athos give you the chance to go on a tour and learn about the history of monastic life and the Holy Monasteries of Agion Oros, as well as admire the miracles of nature and Orthodox religion from a close distance. The unique architecture of the Holy Monasteries of the Mount Athos built on the edge of the mountain in combination with the magnificent landscape of the pristine peninsula, the green trees and the crystal clear blue waters of the Mediterranean Sea will definitely enchant and fascinate you.
Cruise ships depart, according to demand, from the port of Ouranoupoli right next to the entrance of Agion Oros or from the port of Ormos Panagias in Sithonia. Besides the scheduled tour, many other surprises will be waiting for you during your day trip, such as a meal on board, a stop for a swim and many more memorable moments. Please contact the hotel reception for the exact schedule of the trip and the additional services offered.