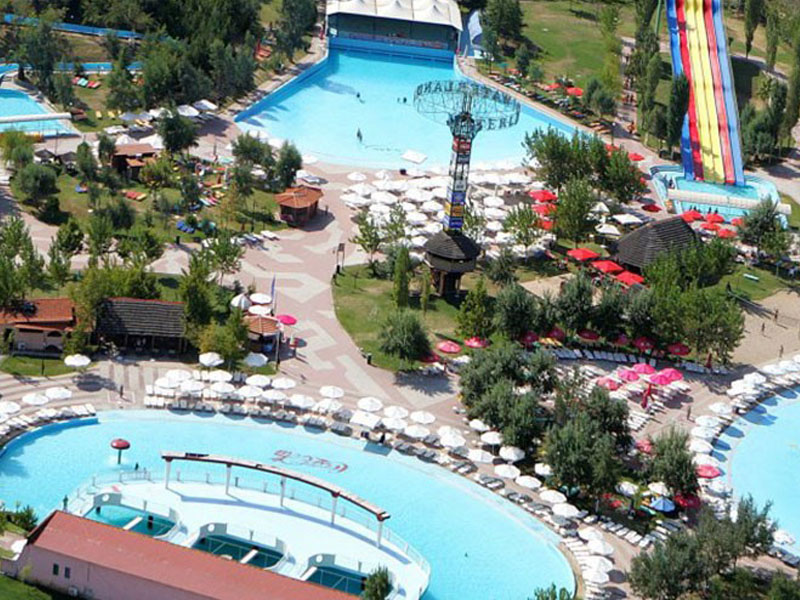 One of the biggest water parks in Europe located close to the city of Thessaloniki offers a great getaway for people of any age. Waterland offers options for any kind of taste! Pay a visit to each one of the 8 theme pools to enjoy endless dives and travel down the many water slides with or without inflatable tubes. For those of you who like challenges, trying the vertical and steep water slides will get your adrenaline going as you travel down them at an incredible speed. Our young friends can splash about in the specially designed children pools and play with water bikes, swings and water guns, always safely and securely. However, in this water park the fun never stops! From now on, our friends from the animal kingdom can also be found in the park. Camels, lamas, deer, horses, ponies, raccoons, ostriches, peacocks and many other animals are hosted in the highly organised facilities of the Waterland Zoo for you to admire.
Games, walks at the green water park which covers an area of 150,000m2, restaurants, cafeterias, basketball courts, tennis courts, volley courts and many more happenings are at your disposal in order for you to have as much fun as possible.


When it comes to water, it is important not only to have fun, but also to be safe. That's why there are always lifeguards and specialized staff in Waterland who are in charge of keeping people safe and meticulously controlling the waters. For more information, please contact the hotel reception.